By RobertHeller. Filed in
Model Railroad Addon Boards
,
News
Tags:
Deepwoods Software
,
ESP32
,
LCC
,
Model Railroad
,
news
,
OpenLCB
,
OpenMRN
,
Point Sense
,
press release
,
PWM LED Signal Lamp Driver
,
Stall Motor Driver
,
The Country Robot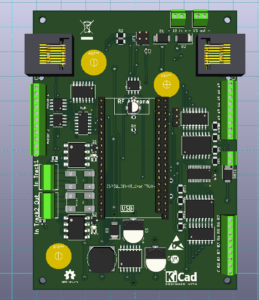 Deepwoods Software/The Country Robot will soon be offering a "shake the box" kit for a LCC I/O node based on the ESP32 MCU that implements everything needed for 1/2 of a siding, featuring these I/O features:
Two stall motor drivers, with point sense.

Two opto-isolator type occupancy detectors (will work with either DCC or DC power).

Sixteen PWM LED drivers, for LED signal "lamps".
These kits will include the base board with all of the SMD components installed. Just a small number if through hole parts, consisting of terminals, connectors, and pin and socket headers (included in the kit) need to be soldered on (only moderate soldering skill is needed). Also included will be a Lily Go TTGO-T1 MCU, a thumb drive containing the software, and a 40+ page booklet showing how to assemble the board, compile and upload the software, and how to install, wire, and configure the board on your model railroad layout.
These boards will be showcased at the big Amherst Railway Society's Hobby Railroad Show at the Big E in Springfield, MA at the end of January 2022. See you there!